Detroit (September 15, 2020) – The Detroit Symphony Orchestra (DSO) today announced recent hires to new administrative positions and the creation of a board-led Detroit Strategy Taskforce. These strategic investments reflect the orchestra's commitment to the continued cultural and economic growth of Detroit, as well as its aspirations to mean more to the city's neighborhoods and residents.
Damien Crutcher joins the DSO as Managing Director of Detroit Harmony, and Karisa Antonio joins the DSO as Director of Social Innovation. They will be tasked with maximizing the DSO's connection with Detroit's neighborhoods through community performances, partnerships, and education programs. These efforts continue a process that began three years ago with the adoption of the DSO's Social Progress Initiative and continued with last year's announcement of Detroit Harmony, a systemic approach to ensuring musical instruments and instruction are made available for all Detroit K-12 students.
The DSO also announced the addition of two new members to the organization's senior leadership team: Lisa Bradley, who joined the DSO in June as Senior Director of Talent and Culture and Chris Harrington, who has been promoted to Senior Director of Jazz and @ The Max.
"I am thrilled to welcome Lisa, Damien, and Karisa to the DSO, and congratulate Chris on his much-deserved promotion," said DSO President and CEO Anne Parsons. "These changes are part of an intentional strategy to build our capacity to serve our community's greatest needs, particularly critical at this moment in time. We must focus on how we can play an even more significant role in the growth and joy of our entire city, starting with an investment in a comprehensive plan to connect the talented musicians of the DSO to more people than ever before."
The DSO's role in the growth and well-being of the City of Detroit will be overseen by a newly established Detroit Strategy Taskforce chaired by Faye Alexander Nelson, Treasurer, DSO Board of Directors. The taskforce also includes board Vice Chair Glenda Price and members Camilo Serna and Jim Vella, as well as community leaders, DSO musicians, and DSO executive leadership.
"During these challenging times, the DSO is choosing to lead with boldness and creativity," said Nelson. "I am honored to chair this new Detroit Strategy Taskforce, and I look forward to the development of this initiative as we continue our support of the community where we live and serve."
"Three years ago, the DSO made a commitment to drive social progress in our city, which we followed up last year with the announcement of Detroit Harmony," said DSO Chairman Mark Davidoff. "Today's announcement continues to build upon the orchestra's investment in our city and aspirations to ensure that all Detroiters have access to music."
Crutcher will develop and help lead Detroit Harmony, a citywide collaboration to improve childhood development through music education and grow economic opportunity by employing Detroiters in the provision of instruments and instruction. Crutcher is the founder of Crescendo Detroit, which engages Detroit children in instrumental music, vocal music, and dance programs. Previously, he served as Director of Bands and Orchestra at Southfield-Lathrup High School. Crutcher received his master's degree in conducting from the University of Michigan, bachelor's degree in music education from Michigan State University, and is an alumnus of Detroit's Cass Technical High School and the DSO's Civic Youth Ensembles.
Antonio will develop and implement a community-driven process to provide new musical performances and programs throughout Detroit while aligning with the priorities of the city's neighborhoods. Antonio comes to the DSO from Lantern Community Services in New York City, where she served as Director of Arts & Culture, working with formerly homeless individuals and families, youth coming out of the foster care system, and individuals with HIV and other chronic physical and mental illnesses. She received her Doctorate of Musical Arts in oboe performance from Stony Brook University, her master's degree from Yale University, and her bachelor's degree from Grand Valley State University.
Bradley will lead efforts to recruit, develop, and retain a high-quality, diverse talent pool, and foster an equitable, balanced, and positive organizational culture. She will also serve as a DEI Steward, helping to lead and implement the organization's strategy for diversity, equity, and inclusion. Bradley comes to the DSO from The Mars Agency, where she served as Vice President, People and Culture.
Harrington first joined the DSO in 2005 as a Patron Services Representative and returned in 2012 as Patron Development and Sales Manager. In his new role, he will oversee the DSO's rentals, front of house, retail, and food and beverage operations for the entire Max M. & Marjorie S. Fisher Music Center. In addition, he will continue to lead marketing and programming for Jazz, The Peter D. and Julie F. Cummings Cube, and Sosnick Courtyard.
Bradley and Harrington are both integral leaders on the team of DSO staff and musicians that is currently developing the organization's comprehensive DEI strategy, begun last year and supported by a grant from The Catalyst Fund of the League of American Orchestras. Shirley Stancato continues to lead the DEI committee of the DSO Board of Directors.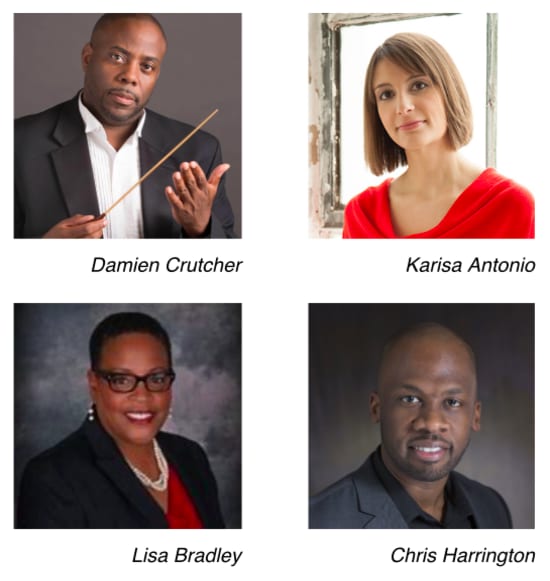 About the DSO
The most accessible orchestra on the planet, the acclaimed Detroit Symphony Orchestra is known for trailblazing performances, collaborations with the world's foremost musical artists, and a deep connection to its city. As a community-supported orchestra, generous giving by individuals and institutions at all levels drives the continued success and growth of the organization. In January 2020, Italian conductor Jader Bignamini was named the DSO's next music director to commence with the 2020-2021 season. Conductor Leonard Slatkin, who concluded a decade-long tenure at the helm in 2018, now serves as the DSO's Music Director Laureate, endowed by the Kresge Foundation. Celebrated conductor, arranger, and trumpeter Jeff Tyzik is the orchestra's Principal Pops Conductor, while the outstanding trumpeter and composer Terence Blanchard holds the Fred A. and Barbara M. Erb Jazz Creative Director Chair. Making its home at historic Orchestra Hall within the Max M. and Marjorie S. Fisher Music Center, the DSO offers a performance schedule that features Classical, PNC Pops, Paradise Jazz, and Young People's Family Concert series. One of the world's most acoustically perfect concert halls, Orchestra Hall celebrated its centennial in 2019-2020. In addition, the DSO presents the William Davidson Neighborhood Concert Series in eight metro area venues, as well as a robust schedule of eclectic multi-genre performances in its mid-size venue The Cube, constructed and curated with support from Peter D. & Julie F. Cummings. A dedication to broadcast innovation began in 1922, when the DSO became the first orchestra in the world to present a radio broadcast and continues today with the free Live from Orchestra Hall webcast series, which also reaches tens of thousands of children with the Classroom Edition expansion. With growing attendance and unwavering philanthropic support from the people of Detroit, the DSO actively pursues a mission to embrace and inspire individuals, families, and communities through unsurpassed musical experiences.